Tutorials and main hotel for the conference
Tutorials and main conference hotel will be at Ibis Hotel Järva. From Arlanda airport you can travel by airport bus, tell the driver that you want to get off at station Järva Krog.
Conference
The conference will be at Stockholm University in Södra huset building C and D on floor 3, see the map below. There will be signs from the subway. For the rooms, see the talk schedule.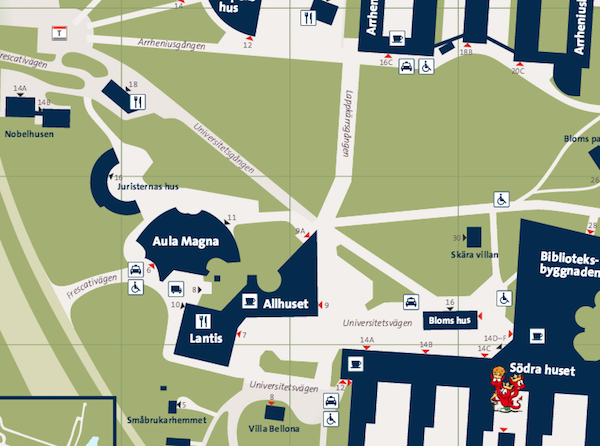 See here for information on how to get to the university and here for more detailed and downloadable maps.
FreeBSD developer summit
FreeBSD developer summit, will be hosted by https://www.init.se at Engelbrektsgatan 7. October 1-2, registration needed.
The easiest way to get to the summit is to go by public transport to subway station Hötorget. Take the northernmost exit from the subway station towards the exit called Tunnelgatan (eng. Tunnel Street). From station Hötorget it is an 8 minute walk, mainly through an old walking tunnel, to Engelbrektsgatan 7. If you choose to share a taxi from the conference hotel, the price will be approximately 30 euro.
To get from the conference hotel to subway station Hötorget you can use the route calculator at http://www.sl.se/en. Read more about transport fares under the menu public transport and taxi.